Rihanna. Queen of R&B. Pop music royalty. Business owner and of course, mother. With one success after another she can begin to seem like somewhat unreal.
Whether she's strutting the runway or performing live to thousands of fans, RiRi always looks good.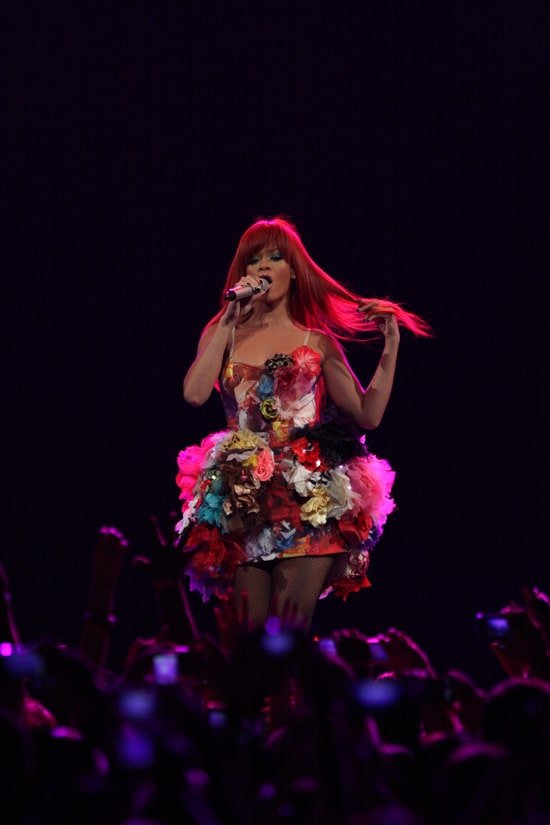 How does she do it?
OK, this isn't a "how to get ahead in business and stardom" blog. So we might not have the answers to how Rihanna is a continuous success story.
But we do have the answers to what perfume the global superstar does wear to smell great day in and day out.
Keep reading to find out how you can get your hands on the same perfume as bad gal RiRi… 
Who Is Rihanna?
Rihanna, real name Robyn Rihanna Fenty, is a Barbadian pop and rhythm-and-blues (R&B) singer who rose to fame in the early 21st century.
She is renowned for her distinctive and versatile vocals as well as her stylish style. Most known for her single 'Diamonds' and collaboration with hip hop and rap artist Jay-Z for single 'Umbrella'.
In 2017 Rihanna put down the mic and launched her own beauty line Fenty Beauty. To then launch a lingerie line a year later. Now Rihanna is a highly respected fashion and beauty mogul. She is continuously bringing diversity and inclusivity into the world of fashion and beauty.
Rihanna continues to slay as a woman in music, business, fashion and beauty. Influencing not only the public but other celebrities as well. With her signature scent having everyone wondering where they can get their own.  
What Does Rihanna's Favorite Scent Smell Like?
Before you go out and buy this captivating fragrance in bulk, it's best to decide if you will actually like the scent.
The perfume has a gentle orange flower undertone in the start, which makes it calming, energizing, and long-lasting. Secondary tones of vanilla and marshmallows can also be detected in the alluring scent.
You will smell the nicest in any case. Together, these components provide a long-lasting aroma. We guarantee that it will never leave you.
This perfume was made by the company 13 years ago. Back then, the perfume's creator intended for the wearer to smell like something you would just want to bite into.
Delicious.
The fragrance is deliciously sweet whilst not being too overbearing. With everyone being obsessed with the way Rihanna smells, you can take it from us that you'll be dousing yourself in it every chance you get.
OK, Come On, Already – What Is The Perfume?
OK, enough teasing.
After many Google searches and speculation, we can confirm that Rihanna wears Kilian Love, Don't Be Shy. A designer perfume made for the stars.
Consistently loved by everyone who is given the chance to get a sniff, this perfume is considered one of the best.
However, this perfume is not for everyone. With an extremely high end price tag Kilian Love, Don't Be Shy is not in a mass-market budget. Not to mention that getting your hands on it is extremely difficult. Everyone wants to smell like Rihanna. 
With a sleek bottle design with a gold cap and engraved plaque, the bottle is made to look and feel luxurious. With this in your collection you'll feel like a celebrity every day.
If you manage to get your hands on the highly desired fragrance, it is ideal for the summer months. With a light orange undertone to keep you smelling fresh. The vanilla and marshmallow keep you smelling sweet all summer long.
Since the launch of Rihanna's brand Fenty, the beauty dominator was quick to make her own scent. Fenty Eau De Parfum is the luxurious fragrance created by the entrepreneur. She now mixes up her daily fragrances between this and Kilian Love, Don't Be Shy. 
Again, with a celebrity name comes a celebrity price tag. Although with the vintage style stained glass brown bottle, it is hard to resist.
The combination of magnolia and musk, together with tangerine, vanilla, coconut, blueberry, and touches of Bulgarian rose, geranium, and patchouli, results in a smell that is all heart and pure soul and manifests itself differently on each wearer.
Other Popular Perfumes By Kilian Love
Now you know what scent you need to purchase in order to smell like Rihanna but you aren't sure if it's the one for you. Below you'll find a range of popular fragrances from the brand that keep Rihanna smelling fresh and sweet.
Moonlight in Heaven. With a mixture of fruity notes of grapefruit and mango, this scent is scrumptiously sweet. Perfect for a Sunday brunch with the girls or a wine tour in the country.
Good Girl Gone Bad. This perfume has keynotes of orange and apricot.
Back to Black. We guarantee that if you wear this scent at night, you'll be the star of the night. Bergamot, honey, patchouli, raspberry, and vanilla are among the pleasant notes present.
Straight to Heaven. Make this your choice of fragrance if you enjoy strong fragrances. Strong nutmeg, rum, dried fruit, cedar, and hedione scents are present.
Rolling in Love. A stunningly romantic scent that focuses on musky notes of ambrette, almond milk, vanilla, and tuberose.
Woman in Gold. This is the perfume for you if you prefer floral fragrances over fruity and sweet. In this fragrance you'll find hints of rose, patchouli and tonka bean.
From this selection of fragrances from the high end brand Kilian, you'll find the right one for you. With deeper husky scents all the way to light, airy florals there is a perfume for everyone.
Final Thoughts
So, OK, Bad Gal RiRi is a proud wearer of Kilian Love, Don't Be Shy. Opting to wear a sweeter fragrance over huskier scents, Rihanna is complemented constantly on the way she smells. 
Whether she wears Kilian Love, Don't Be Shy or her own brand scent Fenty  Eau De Parfum, she smells delectable every time. 
We hope this guide gives you all the information you need on the scent of Rihanna. Whether you like to change it up or remain the same, a fresh, sweet smelling fragrance will have you smelling like our official bad gal RiRi.
All product names, logos, brands, and trademarks are the property of their respective owners