Bella Hadid is one of the most influential American models in recent years, so it's no wonder why everyone wants to find out what perfume this supermodel wears!
Best known for her stylish and contemporary fashion, Miss Hadid is sure to have some exciting yet professional choices when it comes to her perfumes and fragrances.
So, just what perfume does Bella Hadid wear?
Here, we are going to be taking a look at the fragrances and perfumes Bella Hadid wears. This way, you can take a bit of inspiration and find some samples of these perfumes to see if any of them match your own tastes.
Bvlgari Goldea: The Roman Night
This perfume is created and sold by Bulgari, one of the many companies that Bella Hadid is an ambassador for. As a result, Bella Hadid is sure to adore and sport many of their products – and one she is often eager to share with fans is their Goldea: The Roman Night perfume.
A signature scent of Hadid, this perfume is best known for its warmth and richness that practically screams wealth and success. It's a strong, powerful perfume to wear at high end events to help create an aura of strength and confidence around its wearer.
The top notes of this perfume are particularly dark and fruity with scents of mulberry, dark pepper, and bergamot. So, you will instantly be hit with the zestiness of this perfume before noticing how rich the aroma becomes once the heart notes sink in.
The heart notes of this perfume includes plenty of dark floral notes including rose, peony, jasmine, and tuberose. It's sweet yet sensual with the richness enhanced by the base notes of dark musk and patchouli, creating a velvety perfume that is elegant and radiate.
Many who love this perfume claim that it's fruity and dark scents help create the perfect vibe for late summer evenings and nights, making it an ideal perfume to wear for nights out and events that are sure to stretch well into the night.
This strong musk is balanced with lighter notes of vanilla and floral notes to help curate a sweet yet sexy perfume.
It's perfectly easy to see why someone like Bella Hadid would adore a perfume like this as it perfectly captures her personality and matches her character.
As a result, if you want to channel the same kind of elegance and confidence that Bella Hadid sports, then trying out Bvlgari's Goldea: The Roman Night perfume could be the key you need.
Dior's Poison Girl
Sweetness is the center theme in the next favorite perfume of Bella Hadid. In Dior's Poison Girl, lots of different notes have combined together to make a youthful and creamy perfume with a range of different scents.
The top notes of this perfume include strong notes of citrus with lemon and orange, which is also carried through to the heart notes so the orange aroma lingers.
However, it transforms from citrus to floral with orange bloom, and both damask and grasse roses. The addition of roses brings a delicate sense of sweetness that is further amplified by the almond base notes that seep through.
Not only that, but the addition of sandalwood and tonka bean in the base notes helps to balance the sweetness of the fragrance, grounding it in earth and giving it warmth.
Overall, many people other than Bella Hadid love this perfume for its super strong opening scents and lingering warmness through the rose and tonka bean notes.
Some have even compared it to bubblegum – which perfectly sums up the kind of youthful boldness found in this fragrance! It's a long-lasting perfume that is great for day use and has become a well-known iconic perfume from Dior's collection.
So, it's no surprise to see that Bella Hadid has joined the thousands of young women who swear by this perfume. It's sweet yet warm, balanced and modern with its own unique formula.
This kind of innovative thinking is perfect for today's modern women – making it a staple perfume for all young women today!
Versace's Pour Femme Dylan Blue
Versace is a label best associated with wealth, elegance, power, and high end fashion so being able to wear one of their perfumes is an instant way to flaunt your own qualities and style.
The name itself is held with such respect and regard – so of course a classy, sophisticated model like Bella Hadid will have a favorite Versace fragrance.
Her favorite is said to be Versace's Pour Femme Dylan Blue. This perfume is a floral treat with plenty of top and center notes to convey this refined type of aroma.
The top notes are a burst of fruitiness that quickly fades away to more floral fragrances. Once the initial aroma of apples and currants fades, you are left with light sweet notes of rose, peach, and jasmine for a touch of sexy seduction.
The jasmine is perfectly suited to match the base notes, drawing out notes of patchouli and musk to create a subtly sexy fragrance.
This kind of perfume is all about confidence and seduction conveyed through floral and fruity scents.
Its vibrant formula perfectly matches the ladies who want a fragrance to boost their natural boldness and liveliness in as tasteful and sophisticated a way as possible.
Because of this, many pick up Versace's Pour Femme Dylan Blue for special occasions when they want to come across as unique and bold, leaving an impactful first impression on others while perfectly conveying their personality all through scent alone.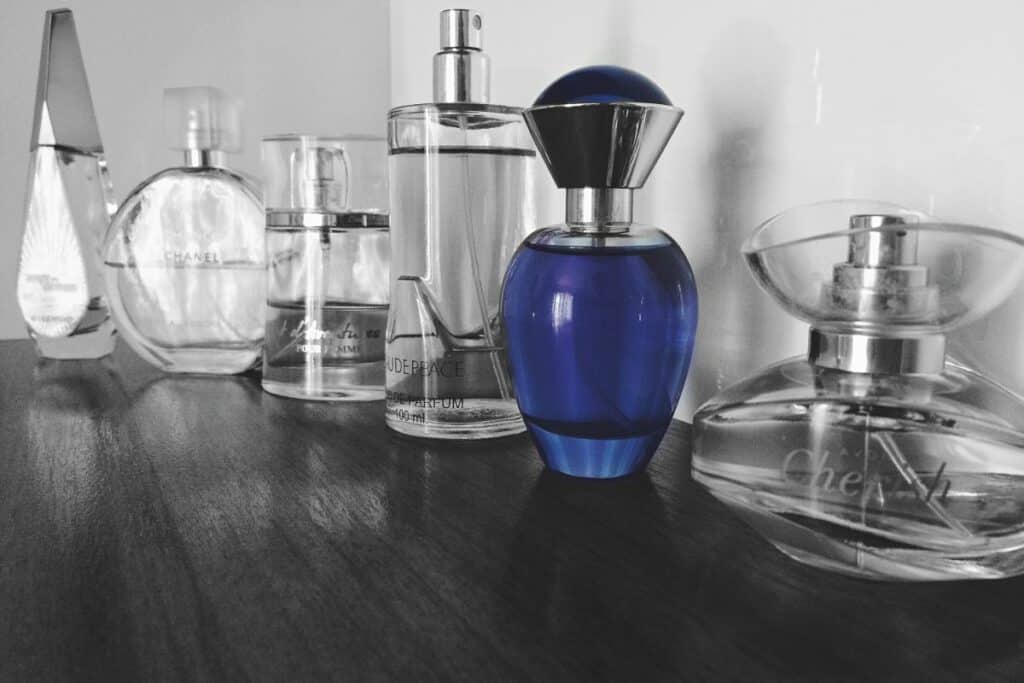 What Perfume Does Bella Hadid Wear? Final Thoughts
Finding the right perfume for you is all about matching the aromas and fragrances to your personality and character.
If you want to try and be more like your heroes and icons, then matching their perfume is a great way to try and channel the same kind of qualities and quirks they possess.
In regard to Bella Hadid, it's clear that Bella Hadid prefers floral perfumes that balance sweetness with sexiness, creating a bold and confident persona. So, check out the fragrances above and see which one speaks the most to you!
All product names, logos, brands, and trademarks are the property of their respective owners