We couldn't really not take a look at Elon Musk's "perfume", right?
We ordered a bottle way back when and it came through after a lot of (well-communicated) delays. So – what does Burnt Hair perfume smell like? Is it any good?
Or is this just another attempt at trolling from the man who set Twitter's auto-reply to the press to a poop emoji?
We've got you covered – read on for our full and unbiased review (no hater or fanboi review here – just our honest opinion).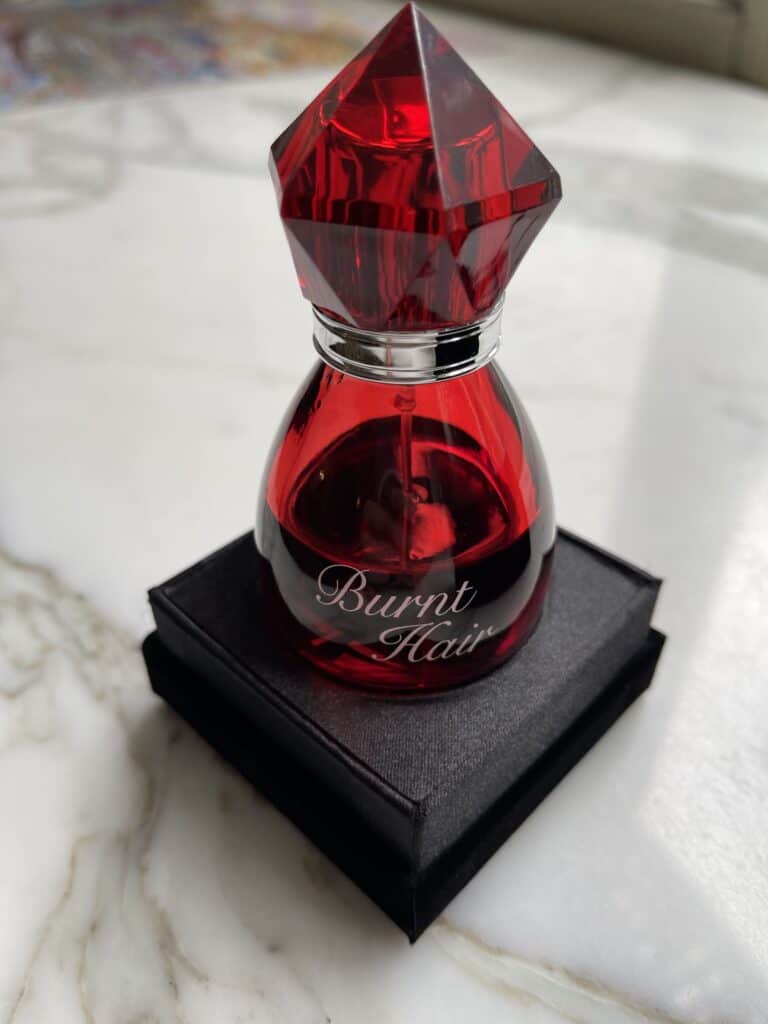 Who Makes Burnt Hair Perfume?
When Elon Musk tweeted about this back in the day, it became a hot topic for a brief burst of the usual hot takes, followed by .. nothing much.
Elon's comments about it, "An Omnigender product", "Doesn't get more lit than this", and so on, certainly seemed to imply it was all a joke.
Musk switched his title to "perfume salesman" and tweeted "Please buy my perfume so I can buy Twitter" – which added to the "no, we're not serious about this" vibe.
Of Elon's multiple companies, the Boring Company was the natural (or least-unnatural) fit for this. After all, this is a company that digs tunnels, but also sells … flamethrowers. So, there's a track record there of using this company as a corporate shell to launch "stuff Elon likes."
This was first touted in October 2022, then all went quiet. We ordered a bottle straight away for review, then we had a long period of waiting.
To be fair, the company was good about communicating this:
Hey Fragrance Fans,

Anybody who truly nose about Burnt Hair will tell you that this fancy bottle and repugnant perfume is very close to being scent to you. 

You've been patient and you'll soon smell why when you're handsomely rewarded with the world's finest fragrance. 

We're almost ready for you hottie. 

Estimated drop date: May 2023

Why the extra time you ask? We've been waiting for our hair to grow back to resume testing. And it will be well worth it. 

Smell you soon!
Burnt Hair Team
Is Burnt Hair Perfume Any Good?
These delays in production made us question our original assumption – that it was all just a gag. After all, why spend so much time getting the product just right if it's all a joke product anyway?
So we were very curious to test it when it finally arrived this weekend.
The Packaging
The bottle comes packaged in a black velvet lined box, "The Essence of Repugnant Desire" on the inside.
(Uh oh, that doesn't bode well).
Inside the packaging was very little in the way of informational materials, just this little slip:
The flip side of that is the usual legalese about alcohol being flammable.
And this is what the bottle looks like. Pretty standard disperser under the cap:
The bottle itself is clearly meant to look a bit like a burning ember or something. Bit literal perhaps, but we've seen a lot worse in bottle designs (hey, maybe that's a future article…)
So – finally, we tested this out. So you don't have to.
The Verdict – What Does Burnt Hair Perfume Smell Like?
In short, it's a trolling exercise, a gag for those in on the joke, not an attempt to create a wearable scent.
Many people have commented (after spraying it ourselves we went and looked at other reviews to sanity-check ourselves) that it "really does smell like burnt hair". The idea I guess being that at least they put the effort in to get it right, even for a joke.
I can't say I quite get that. Burnt something for sure. Hints of tar or bitumen. Singed leather perhaps.
The middle notes that show up after the first rush have a hint of burning hundred dollar bills (Ed: ok, ok, everyone has made that joke.)
Sure, it calms down a little after twenty minutes or so, but even after an hour there's nothing in this that makes me think anyone would want to actually, really wear this.
Like on your actual skin. In a public place.
Nah.
It's a fun bit of trolling, and sold out immediately, so in that sense I guess it did what it was supposed to. Still, I can't help thinking this was a bit of a missed opportunity.
If this was actually wearable, an interesting smoky scent, of which there are many really popular versions, then that might have made the haters even more annoyed (so trolling – check) but also created something for Elon's fans that they might have actually enjoyed longer-term.
Instead – it's just a one-shot troll.
Still, pretty impressive as these things go – I mean, who else could randomly decide to create a joke fragrance and have it sell out in minutes? But to me it feels a little flat.
Before You Go
OK, so this isn't a real fragrance. If you were named Elon Musk and wanted to create a real fragrancde though, wouldn't naturally gravitate towards musky scents? Check out this next article for more on this controversial scent:
Related Articles
Bonus Video!
All product names, logos, brands, and trademarks are the property of their respective owners