Keanu Reeves is an actor who is known for his gracious and humble nature, giving him a reputation as one of the nicest guys in Hollywood.
Known for his amazing action movies such as The Matrix film series and the John Wick movies, he's also renowned for his good looks and style, especially when he is rocking the red carpet.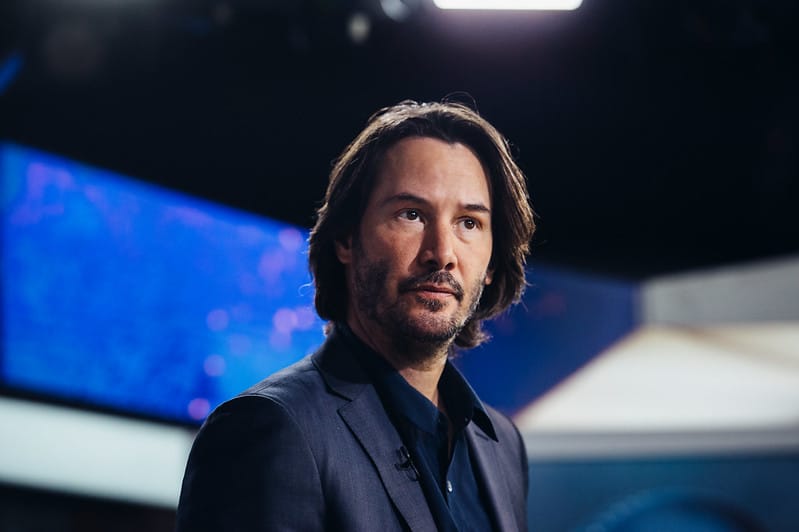 Reeves has become a role model for many people, who may want to replicate his fashion sense and style, and also may be wondering what his signature scent is, so you can channel your inner Keanu!
In this guide, we'll be taking you through what Keanu Reeves' favorite cologne is and explaining his scent style, so you can decide whether you want to splurge on the cologne yourself and see if it suits your own scent style.
What Cologne Does Keanu Reeves Wear?
Keanu Reeves is famously a very private celebrity, but he has previously divulged what his favorite cologne is.
His favorite cologne is Helmut Lang Eau de Parfum, which is a unisex fragrance that has been hugely popular since its release.
This fragrance makes sense as it combines floral and spicy tones to create a scent that is warm and sweet.
Helmut Lang Eau de Parfum
Keanu Reeves has mentioned on multiple occasions that his favorite fragrance is Helmut Lang Eau de Parfum, and it's easy to see why.
This fragrance is hugely popular thanks to its unisex appeal and mix of floral and spicy scents that complement each other perfectly.
Helmut Lang Eau de Parfum was first released in 2000 and was incredibly popular on release, alongside two other fragrances that marked Lang's foray into the fragrance industry.
However, all three initial fragrances were discontinued much to the dismay of fans all over the world who ended up spending a lot of money to purchase bottles on the secondhand market well-above the market price.
After a long time without the three original fragrances, Helmut Lang re-released all three in 2014, receiving much acclaim as they were marketed as unisex fragrances and boasted the iconic minimalist design of the original bottles.
But what is Helmut Lang Eau de Parfum? It is an Amber fragrance that is targeted at both men and women that has been released since its relaunch in 2014.
It has a wide array of floral and spicy scents that makes it a complex and warm fragrance that works well with a wide variety of scent styles.
The top notes of this fragrance are lavender, patchouli, orange blossom, rosemary and sandalwood.
The middle notes are artemisia, heliotrope, jasmine, lily of the valley, and rose.
The base note is Virginia cedar.
It's important to bear in mind that due to the fragrance containing a lot of floral tones, you should make sure that you only apply a few sprays as it can easily become overwhelming which will inconvenience both you and those around you, especially if you are not used to floral scents.
Who Is Helmut Lang?
You may be wondering, who is Helmut Lang? Helmut Lang is a fashion designer who was born in Vienna, Austria but moved to New York to embark on his fashion career.
He founded his eponymous fashion house in 1978 and has grown his reputation to become a household name among the fashion community.
Like a lot of fashion brands, Lang decided to venture into the world of fragrance and now has a whole range of perfumes and colognes for women and men that were released through the 2000s.
Helmut Lang first introduced three fragrances in the 2000s with Helmut Lang Eau de Parfum and Helmut Lang Eau de Cologne being released in 2000 and Cuiron pour Homme being released in 2002.
What is great about the Helmut Lang fragrances is that they are marketed as being unisex and have been loved by both men and women alike.
These three fragrances have proven to be so popular that there was a lot of disappointment when they were discontinued and ended up being sold for extremely high prices on the secondhand market.
Therefore, it only made sense that Helmut Lang would re-release these fragrances in 2014.
When the three fragrances were re-released in 2014, they were packaged in the original square bottles with minimalist labels that are true to the Helmut Lang brand and have been marketed as unisex fragrances rather than specifying the genders on the original release.
How can I wear Helmut Lang Eau de Parfum?
The great thing about Helmut Lang Eau de Parfum is how accessible it is to wear during any season thanks to the mix between woody and floral scents.
This means that the floral scents will stand out during the spring and summer months, while the woody scents will take center stage during the fall and winter months.
However, there are certain tips that you can follow, so you can wear Helmut Lang Eau de Parfum with ease, and make the most of your new fragrance.
Apply To Pulse Points
The first thing you need to do is make sure that you are applying the fragrance to your pulse points.
This is because pulse points help the scent to linger for long periods of time and ensure that you are getting more use out of your perfume.
A common mistake that many people make is that they spray too much fragrance on at one time all over their body, which causes the scent to dissipate at a quicker rate.
By applying the fragrance to your inner wrist and your neck, you will be able to target the areas where the scent is going to last for longer periods of time, meaning that it will last all day without needing to be refreshed.
Don't Spray Too Much Fragrance At Once
This point follows from the previous suggestion but make sure that you don't spray too much fragrance at one time.
Helmut Lang Eau de Parfum is quite costly, so you want to make sure that you get the most from it.
The best way to do this is to be economical with how much you use and only apply a few sprays each time with two sprays on your neck and two sprays on your inner wrist.
Not only does this mean that you will be more economical and get more sprays from your perfume, but it will also prevent you from overwhelming yourself and others with the scent.
The essential oils in Helmut Lang Eau de Parfum are quite strong, meaning that you don't actually have to apply that much to get an impactful amount of fragrance from it.
If you fall into the trap of spraying too much fragrance onto your pulse point because you feel that the fragrance isn't strong enough, you may find that it is actually not the case.
By applying a couple of sprays per pulse point, you can control the level and strength of the scent.
Wrap Up – What Is Keanu Reeves's Favorite Cologne?
Let's close this out. Keanu Reeves is a huge fan of the Helmut Lang Eau de Parfum fragrance which is a unisex perfume that provides a mix of scents that makes it warm and woody.
While Keanu Reeves has been the face of many cologne campaigns in the past, it seems that the Helmut Lang Eau de Parfum is the fragrance that he loyally stands by.
All product names, logos, brands, and trademarks are the property of their respective owners