One of the most  iconic actresses and recognizable faces of all time, for decades Marilyn Monroe has been a symbol of beauty, glamour and femininity, so it's no wonder that so many people want to smell like her! But what was Marilyn's perfume of choice?
It's showbiz legend that Marilyn Monroe (real name Norma Jean) wore Chanel No.5, leading many to believe that this was her favorite fragrance.
But is this true? What Perfume Did Marilyn Monroe Wear?
After all, in the 2011 biopic My Week With Marilyn, with Monroe being played by Michelle Williams, Marilyn cheekily states during a trip to the UK that she loves to wear Yardley London's lavender fragrance (unfortunately, you can no longer buy this scent in fragrance form, but you can buy a lotion or a soap bar). 
The evidence of whether Monroe wore this fragrance is scant, but the evidence that she favored another British fragrance is hard to deny. Read on to find out what that fragrance was, but first let's bust the Chanel No.5 myth once and for all.
Did Marilyn Monroe Really Wear Chanel No. 5?
One of the most iconic quotes of all time, when asked about her nighttime apparel, Monroe said she only wears the famous scent Chanel No.5 in bed.
But where did this quote come from? It originated from an interview with Monroe in Life Magazine in April 1952. The interviewer didn't ask this question themselves, but rather the quote came about during an anecdote Marilyn was telling:
"Once this fellow says, 'Marilyn, what do you wear to bed?' So I said 'I only wear Chanel No. 5.'"
Like a game of telephone, the quote quickly became warped. In some versions, Monroe is conflated as both speakers, and the quote becomes: "What do I wear in bed? Why, Chanel No. 5, of course."
In 2013, Marilyn was the subject of an advertisement campaign by Chanel entitled 'Inside Chanel.' In the two-minute advertisement, Marilyn is the posthumous face of the legendary perfume.
The commercial also features an alleged recording of Marilyn discussing the interview where the famous No.5 quote originated, saying that she wears nothing but Chanel No.5 to bed "Because it's the truth… and yet, I don't want to say nude. But it's the truth!"
But was it? Well, we can never know with certainty. Being a popular fragrance already, it's certainly possible that Marilyn was aware and even wore Chanel No.5. Equally though, it might have simply rolled off the tongue better than a perfume we know she loved. 
What Was Marilyn Monroe's Favorite Perfume?
In 2012 to mark the 50th anniversary of Marilyn Monroe's passing, British fragrance manufacturer, Floris, looked into their archives to investigate a possible purchase made by the screen icon. 
The fragrance house had been selling perfume to the rich and famous since its founding in 1730, including Marilyn Monroe!
On December 14th, 1959 (the year she starred in Some Like it Hot) she made an order for half a dozen bottles of Floris' Rose Geranium Toilet Water.
('Toilet Water' is how people in the 1950s referred to Eau de Toilette, before the marketing people worked out a better-sounding phrase for English-speakers …)
Monroe requested that these bottles of Rose Geranium Toilet be delivered to the Beverly Hills Hotel. This order was made by her personal secretary Dorothy Blass, who acted as her personal shopper.
This fragrance is still produced today, but like the Yardley fragrance is only available in bath essence and soaps.
The fragrance featured top notes of citronella, geranium, and greens, as well as middle notes of palmarosa, rose, rosewood and a bottom note of cedarwood.
Interestingly, it is widely believed that women tend to be more drawn to geranium essential oil as geranium has properties that regulate hormones. We can only assume that Marilyn might have found the geranium scent soothing too!
While you can only buy the perfume for use in bathing now, it was popular in the 1950s to sprinkle some perfume in the bath, so we can assume that Marilyn was also enjoying Floris' Rose Geranium Toilet Water in her baths too.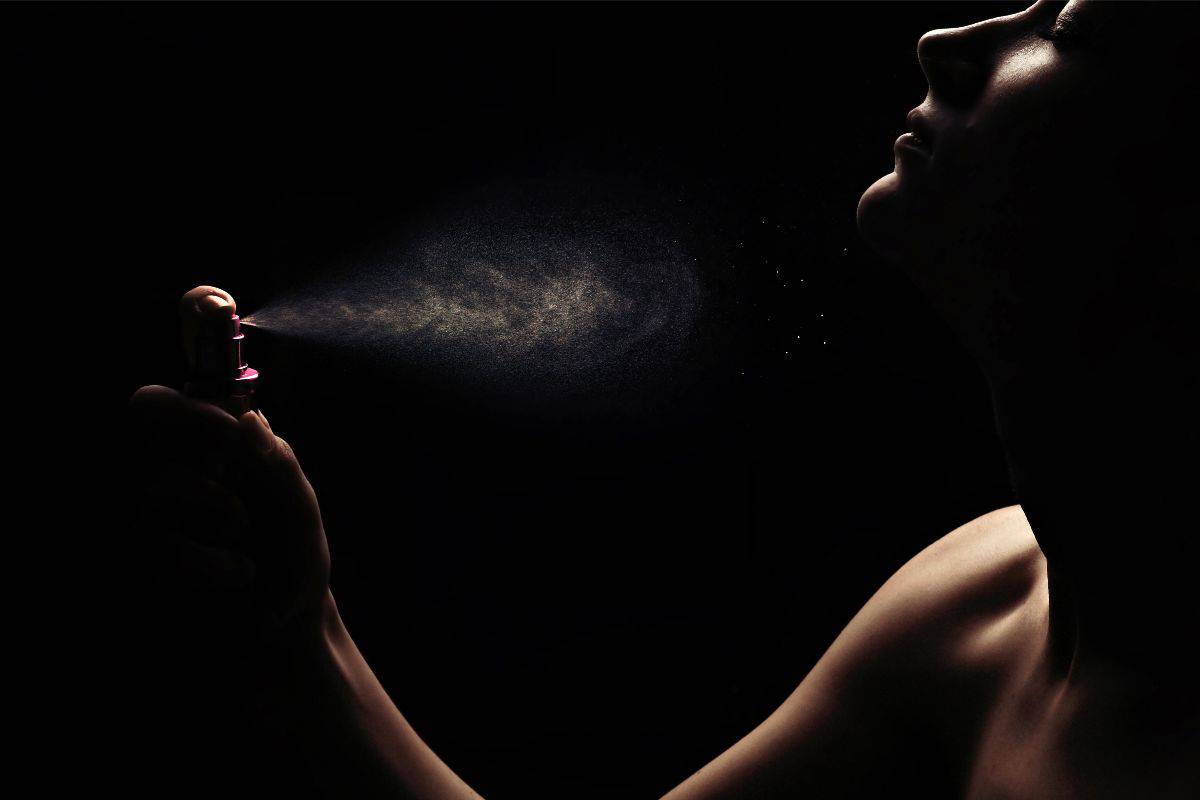 Other Iconic Starlets And Their Scents
Now we know what perfume Marilyn Monroe loved to wear, you might be wondering what perfume other iconic screen actresses loved to wear too. Well, let's take a look!
Audrey Hepburn
One of the most elegant actresses of all time, it's unsurprising that the fashion house Givenchy wanted to create a perfume for Hepburn, who already was a big fan of their clothes.
This perfume was Givenchy L'Interdit that was created specifically for Hepburn in 1957. Givenchy L'Interdit has notes of bergamot, iris, jasmine, narcissus, rose, sandalwood, and violet. 
Rumor has it that Audrey wanted the perfume to be just for her, and that she didn't want it to be released publicly. But in the 1960s, Givenchy made the perfume widely available.
In her later life, Audrey swapped the Givenchy scent for Creed Spring Flower, which was another perfume initially created just for her. 
Grace Kelly
While we're on the subject of Creed fragrances, Grace Kelly favored one of their scents, Fleurissimo. 
When Grace Kelly became Her Serene Highness Princess Grace of Monaco in 1956 on her wedding day in Saint Nicholas Cathedral, Monaco she wore Fleurissimo.
Creed is an esteemed family-owned fragrance house, and Grace Kelly's favorite perfume was commissioned especially by her husband Prince Rainier to compliment her bouquet.
Fleurissimo contains notes of bergamot, Bulgarian rose, and Florentine iris.
Elizabeth Taylor
In the age of modern celebrity, it seems like every famous face tries their hand at fragrances, but Elizabeth Taylor was ahead of the curve.
She launched her pioneering perfume empire that includes iconic scents such as Forever, Passion, and White Diamonds, and the latter is one of the best-selling celebrity perfumes in history.
But before then, Elizabeth Taylor favored Jean Desprez Bal à Versailles, a fragrance with notes of orange blossom, rosemary, sandalwood, and vanilla that hit the market in 1962.
Not only did Elizabeth Taylor wear it on the set of the famous movie Cleopatra, but she also bought the fragrance for Michael Jackson as a gift.
Final Thoughts
So there you have it, Marilyn Monroe's favorite perfume: Floris' Rose Geranium Toilet Water! Or at least, that's a very educated guess (you don't buy six bottles unless you're a fan…). Still, the question remains why we are so fascinated by the perfumes celebrities wear in the first place?
Especially celebrities who did not exist in the age of social media, where information about celebrities is readily available.
One reason may be that it tells us a lot more about their personalities and their preferences. Does the fact that Marilyn Monroe favored a geranium scent tell us something about her personality?
Celebrities were a lot more mysterious back in those days, and while we have accounts of what Marilyn was like through those who knew her and through interviews, this is still secondhand information, and in interviews stars have to carefully curate their image.
Before You Go…
Just because the Chanel No.5 story about Marilyn might be a bit of a myth doesn't mean we can't show the iconic house of Chanel some love! Take a look at our next article, where we round up our favorites!
What is The Best Chanel Perfume?
Related Articles:
Bonus Video!
All product names, logos, brands, and trademarks are the property of their respective owners